Sustaining Democracy
Sustaining Democracy
| 10.25.21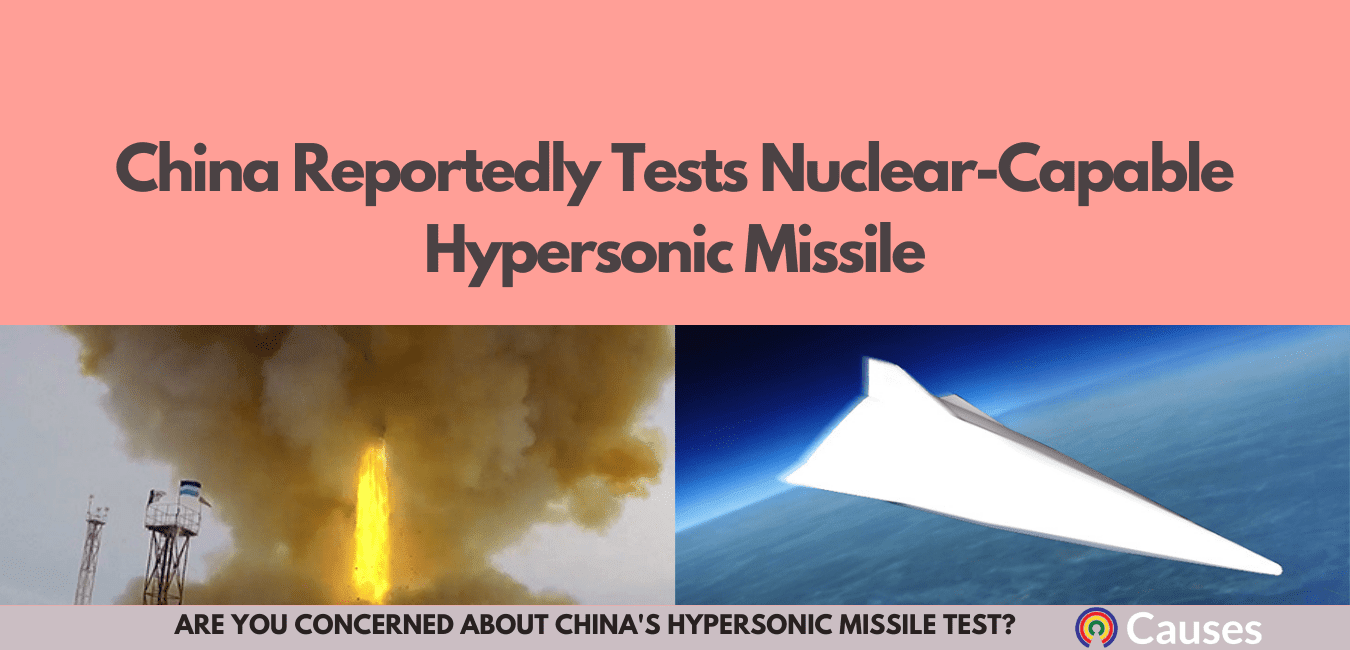 China Reportedly Tests Nuclear-Capable Hypersonic Missile
Are you concerned about China's hypersonic missile test?
What's the story?
China's military tested a nuclear-capable hypersonic missile in August and caught U.S. intelligence analysts by surprise, according to a report by the Financial Times. The "very advanced" capabilities demonstrated by the test have prompted comparisons to when the Soviet Union beat the U.S. in the early stages of the space racewith the launch of Sputnik.
The test reportedly involved a hypersonic glide vehiclethat was launched on a Long March rocket into low-orbit, circumnavigated the globe, and came within a few dozen miles of hitting its target. The Chinese government denied that it tested a hypersonic missile and said it was a spacecraft, although it didn't publicly disclose the August 24th launch in the same way it has done for other launches involving the Long March rockets, including a July test involving a spacecraft.
Hypersonic missiles fly at speeds of at least Mach 5 (five times the speed of sound or one mile per second) and in that regard, they're similar to intercontinental ballistic missiles (ICBM). What makes hypersonics a particularly challenging threat is that unlike ICBMs ― which have a fixed range and don't maneuver in flight as they follow a standard ballistic (or parabolic) flight ― hypersonics can be highly maneuverable in flight, fly at a lower trajectory in the atmosphere, and don't face the same range constraints. 
Those characteristics make hypersonics exceedingly difficult to track and could allow a hypersonic missile to evade America's early warning, tracking, and missile defense systems that are designed to deal with ICBM threats until there is little time to respond. 
China has been a leader in the development of hypersonic weapons, fielding its first in 2020, although Russia became the first nation to field hypersonic weaponsin 2019. U.S. Disarmament Ambassador Robert Wood saidthe U.S. was "very concerned" by China's latest test and noted, "We just don't know how we can defend against that technology, neither does China, neither does Russia."
The U.S. military's missile defense agencies are developing capabilities aimed at providing hypersonic missile defense in the mid- to late-2020s according to the Congressional Research Service. Research on offensive hypersonic weapons in the U.S. has been undertaken to varying degrees for more than a decade, and the pace has picked up in the last few years amid advances made by Russia and China. The CRS notes that the U.S. isn't expected to field hypersonic weapons until 2023 at the earliest, and the Defense Advanced Research Projects Agency (DARPA) announced a successful test of a hypersonic, air-breathing weapon in late September.
— Eric Revell
(Photo Credit: Hypersonic Glide Vehicle: 果壳军事 via Wikimedia/ Creative Commons | Launch: Mil.ru via Wikimedia / Creative Commons)