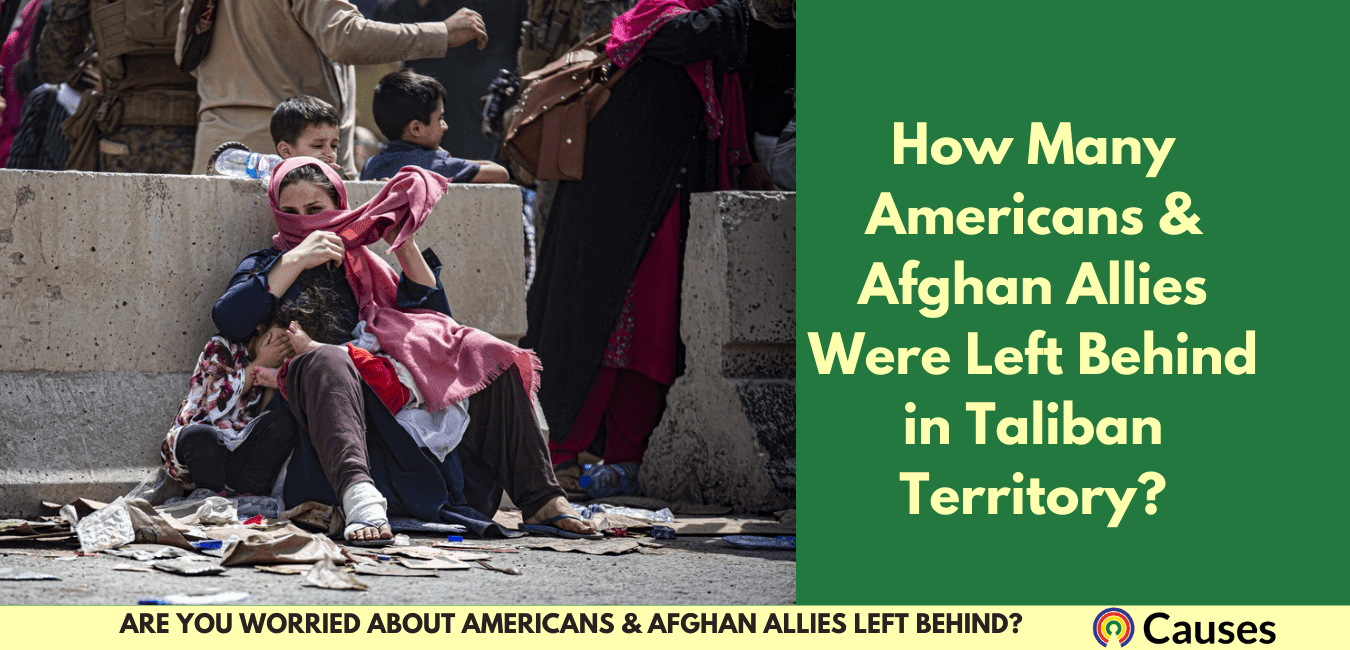 How Many Americans & Afghan Allies Were Left Behind in Taliban Territory?
Are you concerned about Americans and Afghan allies left behind in Taliban-controlled Afghanistan?
What's the story?
Roughly 124,000 people were evacuated from Hamid Karzai International Airport in Kabul, Afghanistan, by the U.S. and its coalition partners between August 14th when the Taliban completed its bid to topple the Afghan government and August 30th when the U.S. concluded its military evacuation from Kabul. About half were evacuated by the U.S. while the rest were evacuated by coalition partner nations.
A substantial number of American citizens, legal residents, and Afghan allies at risk of reprisals from the Taliban were left behind when the Afghanistan evacuation ended despite President Joe Biden's August 19th promise that "if there's American citizens left, we're gonna stay to get them all out." That occurred in spite of the herculean efforts of the military and diplomatic personnel involved with the evacuation, in addition to private groups of veterans on the ground in Afghanistan or in the U.S. providing coordination assistance.
While some of those who were left behind have since escaped on flights to Qatar arranged by the State Dept. and private groups, or by taking overland routes into countries bordering Afghanistan, a significant number are still stuck in Taliban territory. The most recent public estimates of how many Americans and Afghan allies are still in Afghanistan are tracked below, along with the Biden administration's shifting estimates of how many remain. (This post will be updated periodically as more information becomes available.) 
American Citizens
The Biden administration's tally of U.S. citizens in Afghanistan has fluctuated significantly since August, and officials haven't offered a precise number for the number of citizens who were in the country when Kabul fell to the Taliban or have been evacuated. 
Initially, Biden administration officials estimated that as few as 5,000 or as many as 10,000 to 15,000 American citizens were in Afghanistan when Kabul fell. White House Press Secretary Jen Psaki said on August 17th that there were about 11,000 self-identified Americans in Afghanistan and later said on August 30th that of the Americans in Afghanistan when Kabul fell about 6,000 "wanted to get out." Secretary of Defense Lloyd Austin said that 6,000 American citizens were evacuated during the August 14th-30th evacuation.
On August 31st, Biden said in his speech about the end of the evacuation that "about 100 to 200 Americans remain in Afghanistan with some intention to leave." Other Biden administration officials repeated that there were roughly 100 U.S. citizens "who want to leave" in the weeks following the president's remarks, including in Senate testimony by Secretary of State Antony Blinken on September 14th.
However, more recent figures show those numbers were significantly understated. On October 22nd, State Dept. officials told congressional staff that there were still 363 American citizens in Afghanistan, including 176 who want to leave. 
Under Secretary of Defense Colin Kahl told the Senate Armed Services Committee on October 26th that there are 196 American citizens who want to leave Afghanistan and another 243 who have been contacted but aren't ready to leave. Kahl added that 314 American citizens have been evacuated since September 1st through arrangements made by the State Dept. or private groups after roughly 5,500 American citizens were evacuated in August. 
Additionally, there is one American who is being held hostage by the Haqqani network, which is closely aligned with the Taliban. Mark Frerichs, age 59, is a civil engineer and U.S. Navy veteran who was kidnapped by the Haqqani network in Khost Province on January 31, 2020. The Biden administration has discussed the release of Frerichs with Anas Haqqani, who is a leader of the Haqqani network and in the Taliban.
U.S. Legal Permanent Residents
There are a significant number of Afghans who, by virtue of their work for the U.S. or relationship to someone who worked with the U.S., have been granted legal permanent resident (LPR) status but remain stranded in Afghanistan. As a group, LPRs are also known as "green card holders."
The Biden administration hasn't offered an estimate for the number of legal permanent residents who remain, but Secretary of State Antony Blinken told Congress on September 13th that "several thousand" U.S. legal permanent residents were still in Afghanistan.
In his October 26th testimony, Under Secretary for Defense Policy Colin Kahl told the Senate Armed Services Committee that 266 LPRs have been evacuated since September 1st in efforts arranged by the U.S. government or private groups.
Afghan SIVs
When the U.S. evacuation began, there were roughly 18,000 to 20,000 Afghans who had applied for a Special Immigrant Visa (SIV) due to their work for the American military as interpreters or contractors. SIV status gives a recipient LPR status and access to refugee benefits (read more about the SIV program here). That figure has grown to about 28,000 since the Taliban takeover.
The SIV program also provides visas for an SIV's spouse and their unmarried children under the age of 21. It has been estimated that there are more than 70,000 spouses and unmarried children of those 28,000 Afghan SIVs.
The Biden administration has not provided an estimate for the number of Afghan SIVs who were evacuated in August, but Politico reported on September 1st that a State Dept. official told reporters that "the majority" were left behind. 
Under Secretary of Defense Colin Kahl told the Senate Armed Services Committee on October 26th that about 8,500 SIV applicants were evacuated, leaving about 19,500 SIV applicants and their families still in Afghanistan. 
— Eric Revell
(Photo Credit: Afghan Family: U.S. Marine Corps photo by 1st Lt. Mark Andries via DVIDSHUB / Public Domain)