Sustaining Democracy
Sustaining Democracy
| 11.15.21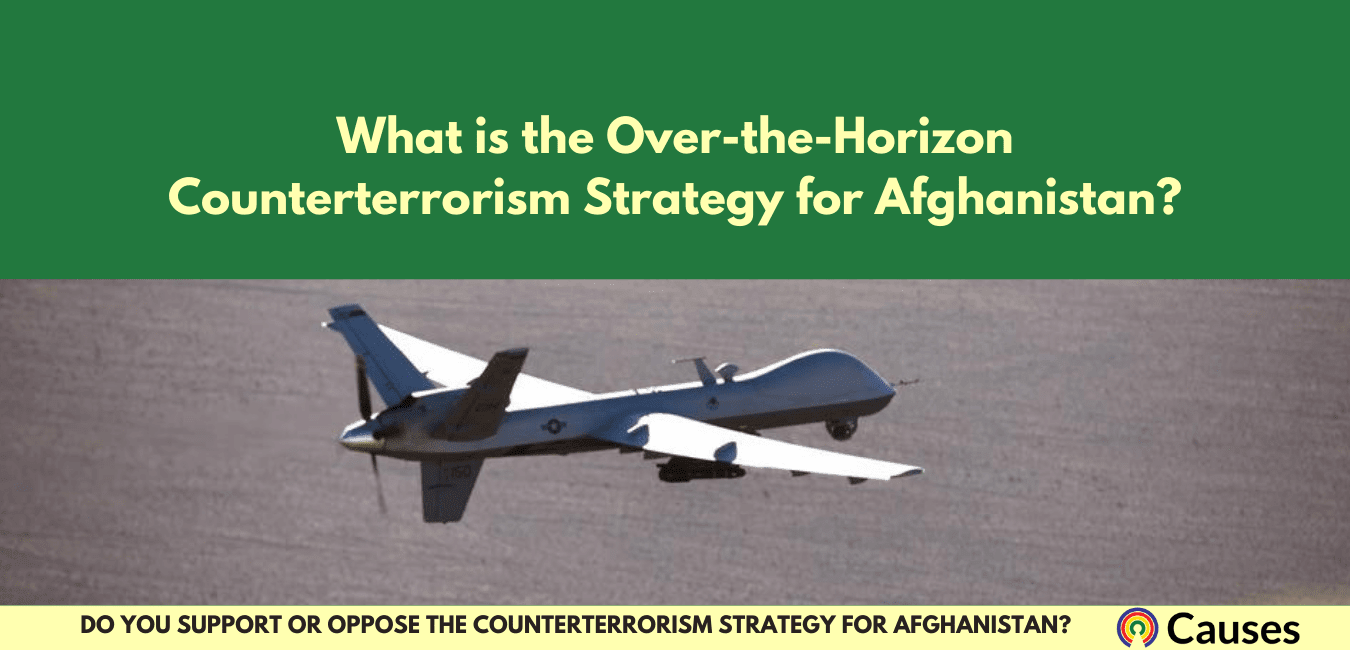 What is the Over-the-Horizon Counterterrorism Strategy for Afghanistan?
Do you support or oppose the counterterrorism strategy for Afghanistan?
What's the story?
In the aftermath of the U.S. military withdrawal from Afghanistan and the Taliban's takeover, the Biden administration has been pursuing an "over-the-horizon" counterterrorism strategy relying on airpower rather than troops on the ground in an effort to prevent the rise of ISIS-Khorasan and the resurgence of al Qaeda. 
The U.S. carried out a pair of drone strikes in Afghanistan following the deadly terror attack at the Kabul airport that killed 13 American servicemembers and at least 169 Afghans. Due to the U.S. withdrawal and the collapse of the Afghan military, the aircraft used were launched from bases in the Persian Gulf and had little on-the-ground intelligence to rely upon with the Taliban unwilling to aid U.S. counterterrorism efforts. 
The first, on August 28th, was carried out in Nangarhar Province east of Kabul using an unmanned Reaper drone and killed a planner and a facilitator for ISIS-K while wounding another with no civilian casualties reported. The ISIS-K personnel weren't directly linked to the terror attack at the Kabul airport but were suspected of planning future operations against targets in Afghanistan.
That was followed by a second drone strike on August 29th against a suspected suicide vehicle in the city of Kabul that the Dept. of Defense believed posed an imminent threat to U.S. personnel and evacuees at the airport. However, following it was later revealed that the strike killed 10 Afghan civilians, including seven children. 
A DOD investigation found no violations of law but concluded that execution errors, confirmation bias, and communication breakdowns that led to the civilian casualties. The DOD has stated that it plans to offer condolence payments to the relatives of those killed by the errant strike. 
Going forward, the U.S. is negotiating with Pakistan on a formal agreement to use Pakistani airspace for American aircraft flying to Afghanistan for over-the-horizon counterterrorism missions. It's unclear whether U.S. aircraft have conducted over-the-horizon missions since the August 29th strike.
The distance involved with flying from the Persian Gulf around Iranian airspace to Pakistani territory and on into Afghanistan reduces the amount of time those aircraft can be used to track or target suspected terrorists in Afghanistan without aerial refueling. That has led the Biden administration to seek an alternative basing arrangement, potentially in Uzbekistan or Tajikistan to the north of Afghanistan where the U.S. has operated airbases in the past, although thus far no deals have been reached.
— Eric Revell
(Photo Credit: U.S. Air Force photo by Airman 1st Class William Ri