Sustaining Democracy
Sustaining Democracy
| 11.22.21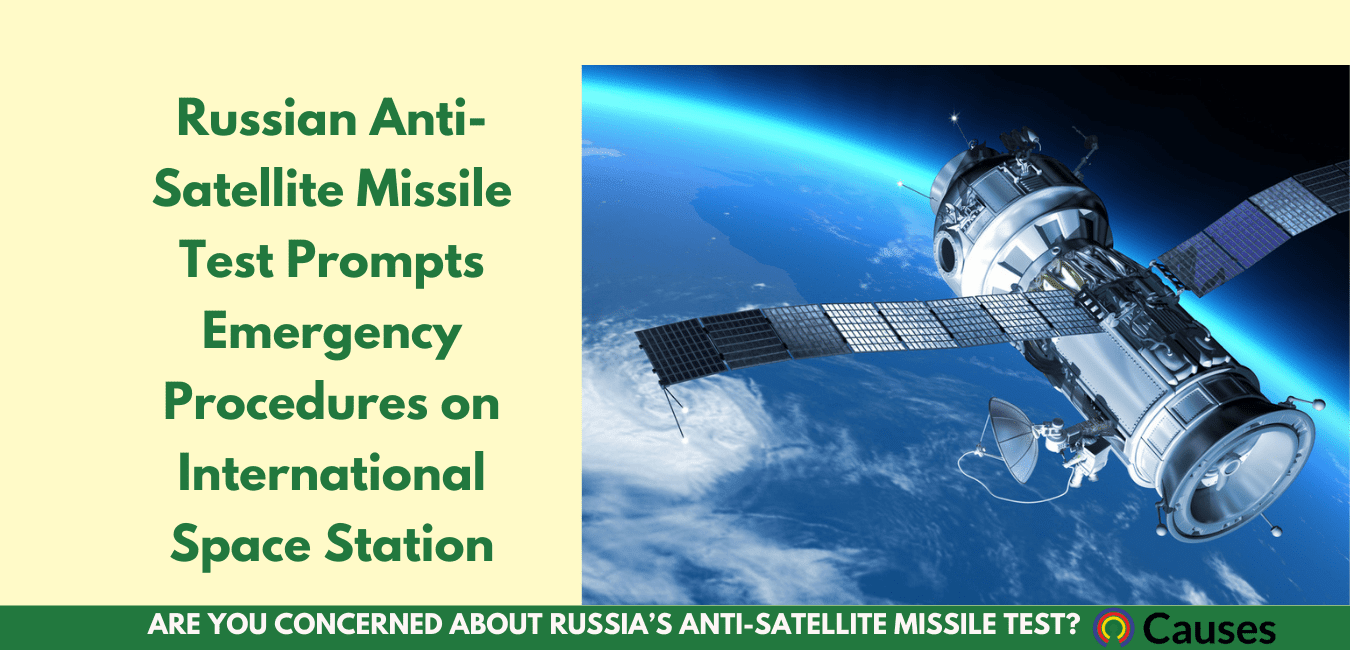 Russian Anti-Satellite Missile Test Prompts Emergency Procedures on International Space Station
Are you concerned about Russia's anti-satellite missile test?
What's the story?
The National Aeronautics and Space Administration (NASA) announced that in response to Russia's test of an anti-satellite missile (ASAT) on a Russian satellite, astronauts aboard the International Space Station (ISS) were directed to temporarily shelter in their spacecraft as precaution while they passed through the destroyed satellite's debris field. There are currently four American astronauts, two Russian cosmonauts, and one German astronaut aboard the ISS.
NASA explained in a statement that the ISS is passing through or near the debris field every 90 minutes, but that the need to shelter was only in place during the second and third passes based on a risk assessment by debris and ballistics specialists at the Johnson Space Center. NASA added that it will continue to monitor the debris going forward.
NASA Administrator Bill Nelson said in a statement that he is "outraged by this irresponsible and destabilizing action." Nelson added:
"With its long and storied history in human spaceflight, it is unthinkable that Russia would endanger not only the American and international partner astronauts on the ISS, but also their own cosmonauts. Their actions are reckless and dangerous, threatening as well the Chinese space station and the taikonauts on board. All nations have a responsibility to prevent the purposeful creation of space debris from ASATs and to foster a safe, sustainable space environment."
For its part, Russia admitted to testing a direct ascent ASAT on one of its satellites but denied that the test endangered any astronauts in space.
U.S. Space Command stated that 1,500 pieces of trackable orbital debris (roughly the size of a softball) were initially created by the satellite's destruction and that it "will likely generate hundreds of thousands of pieces of smaller orbital debris." Army General James Dickinson, commander of Space Command, said:
"The debris created by Russia's DA-ASAT will continue to pose a threat to activities in outer space for years to come, putting satellites and space missions at risk, as well as forcing more collision avoidance maneuvers. Space activities underpin our way of life and this kind of behavior is simply irresponsible."
Anti-satellite missiles are a technology that has become part of an arms race between the world's militaries in the space domain. That's due to the importance of satellite communications for militaries' command-and-control capabilities, which are a key target in either a conventional or nuclear war. The arms race in space has also extended to laser weapons and satellites that can move other satellites out of orbit. 
Several countries have developed ASAT systems and successfully shot down their own satellites, including India, Russia, China, and the U.S. The first successful destruction of a satellite by an ASAT was done in 1968 by the Soviet Union. The U.S. conducted its first successful ASAT test in 1985, and also destroyed a malfunctioning spy satellite in 2008. China conducted its first ASAT test in 2007, while India followed suit in 2019.
Such tests leave large amounts of debris, some which eventually burns up in the atmosphere, but other uncontrolled can debris remain in those orbital "lanes" for years to come, posing a risk of destroying or disabling a satellite.
— Eric Revell
(Photo Credit: iStock.com / Inok)