Sustaining Democracy
Sustaining Democracy
| 11.29.21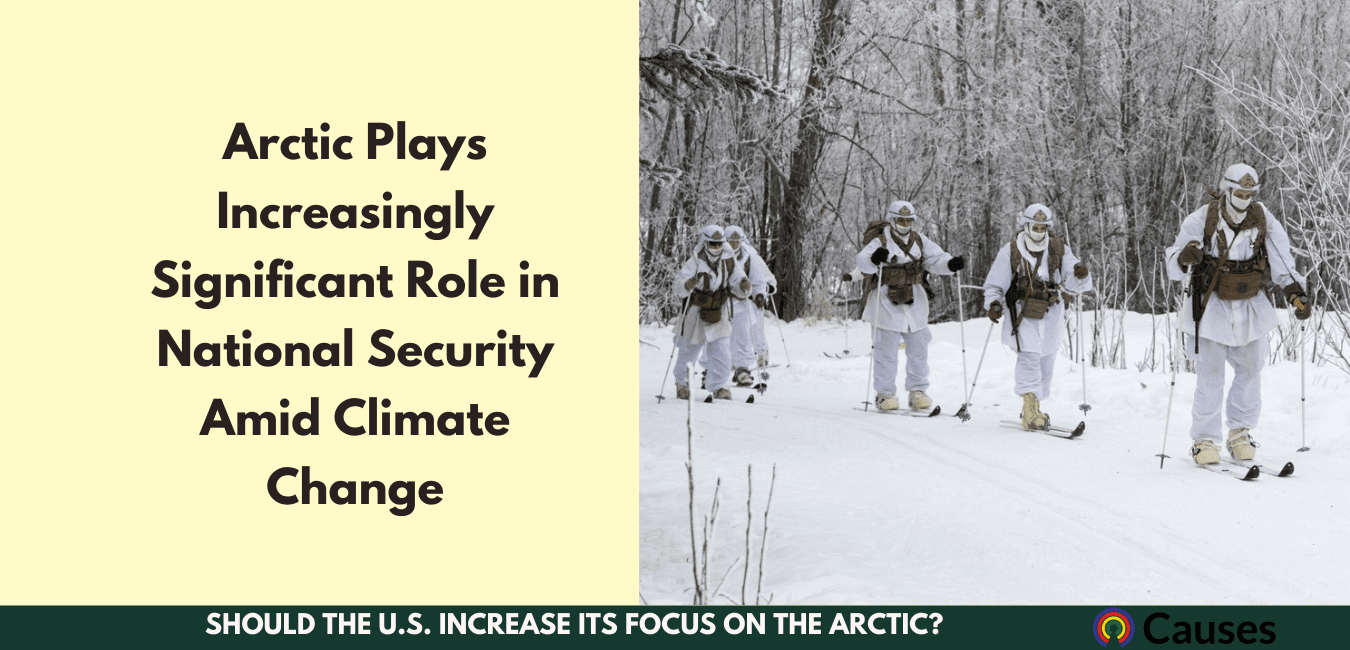 Arctic Plays Increasingly Significant Role in National Security Amid Climate Change
Should the U.S. increase its focus on the Arctic?
What's the story?
The Arctic is becoming an increasingly significant area for American geopolitical interests amid renewed great power competition with China and Russia, in part due to climate change's impact on the region.
By virtue of the state of Alaska, the U.S. is one of eight Arctic countries along with Canada, Iceland, Norway, Sweden, Finland, Denmark (which has Greenland as an autonomous territory), and Russia. Five of those countries have coastal territory with waters north of the Arctic Circle: the U.S., Canada, Russia, Norway, and Denmark (Greenland).
Reduced levels of sea ice in the Arctic Ocean over the last decade have created the potential for increased shipping traffic through the Northwest Passage via the Canadian archipelago and Alaska; and through the Northern Sea Route along the Russian coast. Less sea ice may also lead to increased energy and mineral development, including rare earth elements, use of fisheries, and tourism in the Arctic region.
While China doesn't have any territory in the Arctic, it considers itself as a "near-Arctic state" and views the opening of the Northern Sea Route as an opportunity to extend its influence through projects within its Belt and Road Initiative as a "polar silk road" that avoids shipping chokepoints in Southeast Asia and the Middle East. To that end, the Chinese government has invested in Arctic infrastructure projects in Russia and undertook efforts to invest in airfields in Greenland and Finland that were rebuffed (and which prompted short-lived discussions of the U.S. purchasing Greenland).
Russia has pursued a modernization of its Arctic military capabilities and stepped up exercises by its air force in recent years. In 2020, U.S. Northern Command reported that Russian military aircraft entered the Alaska Air Defense Identification Zone (ADIZ) on 60 occasions, the highest level since the fall of the Soviet Union in 1991 and a significant increase from the prior average of 10 incursions per year. 
Renewed great power competition in the Arctic has led to a greater frequency of U.S. military exercises in the region with regional allies, particularly NATO member states and partner nations, as a means of building interoperability and deterring China and Russia. All 29 NATO members, including the U.S., plus Finland and Sweden held NATO's largest exercise since the end of the Cold War in Norway in 2018; while a similar exercise is being planned for 2022.
Lawmakers in Congress are increasing their focus on Arctic issues, with a number of Arctic-related policy items included in the annual defense authorization bills, such as the construction of additional polar icebreakers for the Coast Guard and Navy. Before the House departed for its Thanksgiving recess, the Foreign Affairs Committee's Subcommittee on Europe, Energy, the Environment, and Cyber held a hearing on the national security implications of climate change in the Arctic.
— Eric Revell
(Photo Credit: Chinook: U.S. Air Force photo by Alejandro Peña via DVIDSHUB / Public Domain)