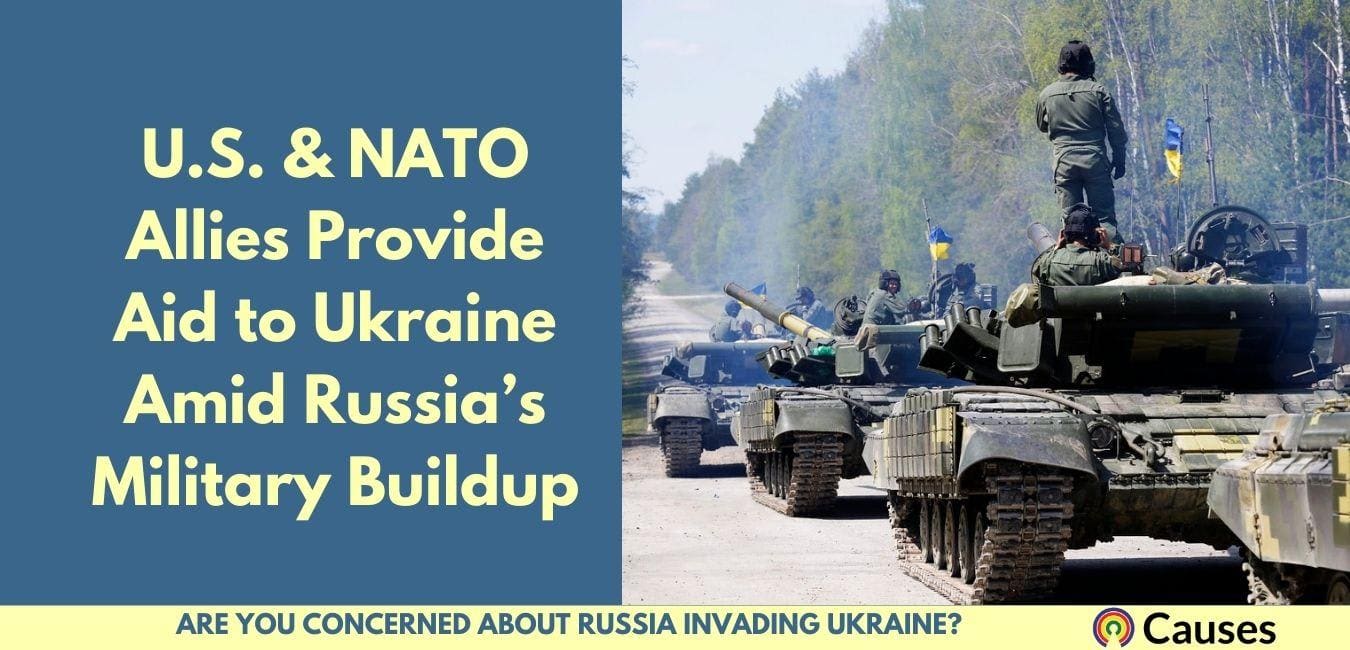 U.S. & NATO Allies Provide Aid to Ukraine Amid Russia's Military Buildup
Are you concerned about Russia invading Ukraine?
What's the story?
The U.S. and its North Atlantic Treaty Organization (NATO) allies are increasing shipments of military aid to Ukraine amid Russia's ongoing military buildup on Ukraine's borders. 
The news comes as Russia is insisting that NATO provide a legal guarantee Ukraine will never be admitted to the alliance and remove forces from NATO member countries in Central and Eastern Europe like Bulgaria and Romania. The U.S. and NATO have rejected those demands as non-starters and are taking steps to bolster Ukraine's ability to defend itself and reassure allies in the region.
Secretary of State Antony Blinken spoke to the press Friday after a meeting with Russian Foreign Minister Sergei Lavrov in Geneva, Switzerland. Blinken said he conveyed that the U.S. and its European allies and partners "stand firmly with Ukraine in support of its sovereignty and territorial integrity." He added: 
"We've been clear: If any Russian military forces move across Ukraine's border, that's a renewed invasion. It will be met with a swift, severe, and a united response from the United States and our partners and allies. We also know from experience that Russia has an extensive playbook of aggression short of military action, including cyber attacks, paramilitary tactics, and other means of advancing their interests aggressively without overtly using military action. Those types of Russian aggression will also be met with a decisive, calibrated, and again, united response."
Blinken's comments specifying that any movement across Ukraine's border is a renewed invasion come after President Joe Biden had to clean up a similar statement he made during a press conference Wednesday. Biden said Wednesday that, "Russia will be held accountable if it invades. And it depends on what it does. It's one thing if it's a minor incursion and then we end up having a fight about what to do and no do, et cetera." On Thursday, Biden clarified his remarks by saying:
"If any assembled Russian units move across the Ukrainian border, that is an invasion. And it would be met with severe and coordinated economic response that I've discussed in detail with our allies, as well as laid out very clearly for President Putin. But let there be no doubt at all that if Putin makes this choice, Russia will pay a heavy price."
The Latest on Russia's Military Buildup
Over the last several months, Russia has undertaken a significant military buildup on Ukraine's border with over 100,000 troops in close proximity to the border and more personnel in staging areas where they could quickly be moved to the front. The buildup is larger than what occurred before Russia illegally annexed Crimea from Ukraine and launched an invasion of the Donbas region in 2014, where it still supports a separatist insurgency. The ongoing conflict has led to more than 14,000 deaths to date.
Russia's military is also moving troops and advanced equipment, such as its advanced S-400 surface-to-air missile system, into neighboring Belarus for what they say are military exercises. Some of the units have been moved across Russia from bases in Siberia and the country's Far East to areas near Ukraine. This comes as Russia's navy is also undertaking notable training exercises: it sent amphibious vessels from its Baltic Fleet into the Mediterranean Sea this week, where they'll reportedly link up for training with other Russian warships that just completed exercises with ships from the Iranian and Chinese navies in the Gulf of Oman. 
It's still unclear whether Putin has decided to attack Ukraine, and he has said he has no plans to invade Ukraine. However, the multi-pronged buildup of military assets gives Putin the ability to threaten Ukraine by land from the south via Crimea, from the east via the Donbas, or the north from Belarus; and by sea through an amphibious landing from the Black Sea.
Russia is reportedly laying the groundwork for a "false flag" operation to use as justification for an attack on Ukraine. The U.S. announced sanctions on Thursday against several Russian-backed officials who were being recruited to undermine Ukraine's government and to prepare to take over the country's government and control the country's critical infrastructure during a Russian occupation.
U.S. & NATO Step Up Military Aid to Ukraine
RELATED READING
---
— Eric Revell
(Photo Credit: Major Neil Penttila, 7th Army Training Command Public Affairs via Flickr / Creative Commons)