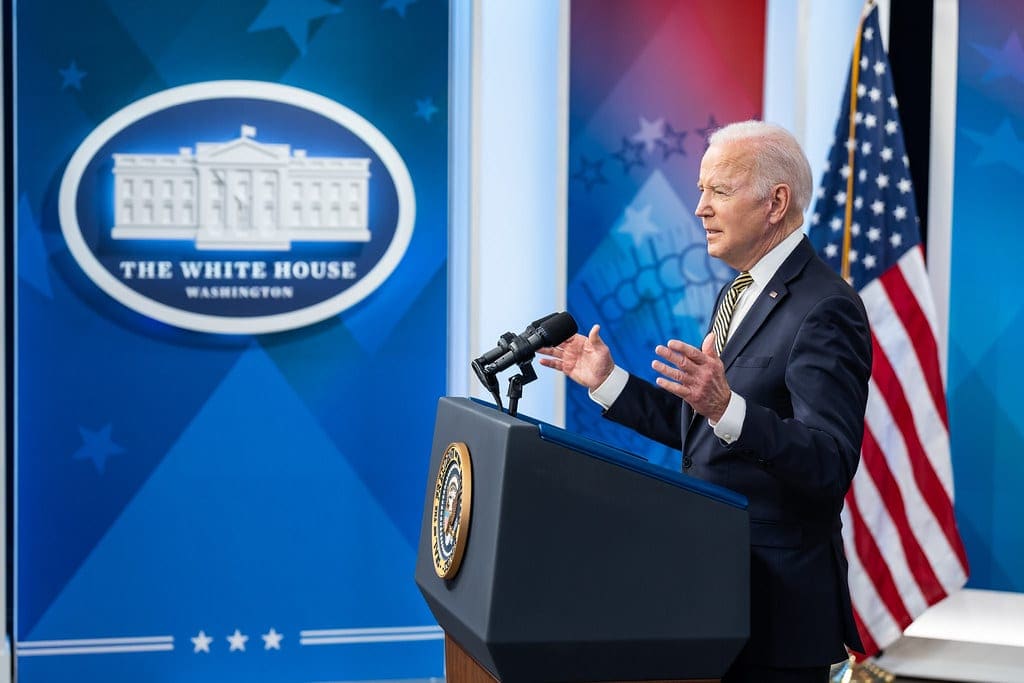 President Biden Says U.S. Will Defend Taiwan if China Attacks, White House Issues Walk Back
Should the U.S. defend Taiwan if China attacks?
What's the story?
President Joe Biden said Monday that the 

U.S. military would intervene if China attempts to invade Taiwan

, which is a self-governing democracy regarded by China as a rogue island province that must be united with the mainland under communist rule.

While those comments appeared to be a departure from past U.S. policy regarding Taiwan's status, the White House quickly issued a statement walking back the president's statement. The president's initial comments were similar to those Biden made last year in 

August

 and 

October

, which were later 

walked back as well

.
What Biden said
During a press conference with Japanese Prime Minister Fumio Kishida, President Biden and the prime minister were asked about whether their countries would come to Taiwan's aid on several occasions. Both emphasized that their countries' commitment to peace and stability across the Taiwan Strait hasn't changed.

In an 

exchange with a reporter near the end of the press conference

, Biden made a statement that represented a significant departure from what U.S. policy toward Taiwan and the People's Republic of China has been since the Carter administration. The 

questioning and Biden's response went as follows

:
Reporter

: "You didn't want to get involved in the Ukraine conflict militarily for obvious reasons. Are you willing to get involved militarily to defend Taiwan, if it comes to that?"
Biden

: "Yes."
Reporter

: "You are?"
Biden

: "That's the commitment we made. That's the commitment we made. We are not ― Look, here's the situation: We agree with the One China policy; we've signed on to it and all the attendant agreements made from there. But the idea that ― that it can be taken by force ― just taken by force ― is just not a ― is just not appropriate. It will dislocate the entire region and be another action similar to what happened in Ukraine. And so, it's a burden that is even stronger."
Walk back & reaction
Shortly after the press conference, an unnamed White House official issued a 

statement

 to clarify that Biden wasn't changing U.S. policy relative to Taiwan:
"As the President said, our policy has not changed. He reiterated our One China Policy and our commitment to peace and stability across the Taiwan Strait. He also reiterated our commitment under the Taiwan Relations Act to provide Taiwan with the military means to defend itself."
Biden's initial comments and the subsequent walk back prompted a response from policymakers who have advocated for the U.S. to end that ambiguity and openly recognize Taiwan and commit to defending it from China. Sen. Tom Cotton (R-AR) released a 

statement that read

:
"I've long said that we should change our Taiwan policy from 'strategic ambiguity' to 'strategic clarity': the United States will come to the defense of Taiwan in the event of a Chinese attack. As usual, strategic clarity and military strength is the best way to deter China. Given President Biden's apparent policy shift in off-the-cuff remarks at a press conference in Japan, followed by anonymous White House aides trying to 'walk back' his statement, it's now essential that President Biden restate our new policy of strategic clarity in clear, deliberate remarks from a prepared text. Otherwise, the continued ambiguity will likely provoke the Chinese communists without deterring them―the worst of both worlds."
Biden's comments also drew the ire of the Chinese Communist Party, as Foreign Ministry Spokesperson Wang Wenbin 

told reporters

 in Beijing that Taiwan "is an inalienable part of China's territory" and warned:
"The Taiwan issue is a purely internal affair for China. On issues touching on China's core interests of sovereignty and territorial integrity, China has no room for compromise or concession… No one should underestimate the firm resolve, staunch will and strong ability of the Chinese people in defending national sovereignty and territorial integrity."
U.S.-Taiwan relations
The Taiwan Relations Act (TRA) was signed into law by President Jimmy Carter in 1979 and marked an inflection point in U.S.-Taiwan relations and in U.S.-China relations. It effectively replaced the Sino-American Mutual Defense Treaty between the U.S. and Taiwan. 

That binding defense treaty went into force in 1955, six years after the Chinese Civil War ended with the Chinese Communist Party in control of the mainland (the People's Republic of China or PRC), and the Nationalist government in charge of Taiwan, formally known as the Republic of China (or ROC). Under the treaty, U.S. troops were stationed in Taiwan similar to how American forces are currently stationed in Japan and South Korea as a forward-deployed deterrent to protect those treaty allies.

In 1979, Carter annulled the defense treaty when the U.S. broke off formal diplomatic relations with Taiwan and established diplomatic ties with the People's Republic of China. One hundred days later, Congress and the Carter administration enacted the TRA to outline the informal U.S.-Taiwan relationship.

The 

Taiwan Relations Act

 states that efforts to determine Taiwan's future through non-peaceful means (including boycotts or embargoes) threaten peace and security in the Western Pacific; it's U.S. policy to maintain a capacity to resist the use of force or coercion to undermine Taiwan's security; the U.S. will provide defensive military equipment so that Taiwan can have a sufficient self-defense capability; that decisions about defending Taiwan will be made by Congress and the president; and that references in U.S. law to foreign states and governments also apply to Taiwan.

 

The TRA doesn't require the U.S. to defend Taiwan against 

an attack by the PRC, but leaves open the possibility of doing so, creating a policy known as "strategic ambiguity," which is intended to deter the PRC from attacking Taiwan and deter Taiwan from taking actions like unilaterally declaring independence that could provoke a PRC attack.
The administration of President Ronald Reagan in 1982 made the "Six Assurances" to Taiwan, which have been a foundational element in U.S. policy toward Taiwan and the PRC ever since. In 2019 and 2020, President Donald Trump's administration declassified Reagan's internal presidential memorandum and State Dept. cables that included the definitive language of the Six Assurances, which were that the U.S.: 
Has not agreed to set a date for ending arms sales to Taiwan.
Has not agreed to consult with the PRC on arms sales to Taiwan.
Will not play a mediation role between Taipei and Beijing.
Has not agreed to revise the Taiwan Relations Act.
Has not altered its position regarding sovereignty over Taiwan.
Will not exert pressure on Taiwan to enter into negotiations with the PRC.
Bipartisan majorities of Congress have reaffirmed the Six Assurances and the Taiwan Relations Act on several occasions since their adoption, including through recently enacted national defense authorizations and appropriations bills.
In the wake of the Taiwan Relations Act and the Six Assurances, further U.S. administrations have shaped the relationship between the U.S. and Taiwan.
During a 1998 trip to China, President Bill Clinton outlined the "Three No's" which is "that we don't support independence for Taiwan, or 'two China's,' or 'one Taiwan, one China,' and we don't believe that Taiwan should be a member in any organization for which statehood is a requirement." Clinton's statement didn't diverge from existing U.S. policy, but PRC officials tend to inaccurately quote the "Three No's" as if the U.S. were opposed to Taiwan's independence, whereas U.S. policy is that it does not support Taiwan's independence.
PRC officials also frequently misstate the "one China" policy adopted by the U.S. as agreeing with its own "one-China principle" that the PRC is the only China and Taiwan is part of it. In fact, the U.S. "one China" policy is based on the TRA, the Six Assurances, and several communiques between the U.S. and PRC. 
Under the "one China policy" as adopted by the U.S. government, the U.S. recognizes the PRC as the "sole legal government of China"; acknowledges "the Chinese position that there is but one China and Taiwan is part of China" but doesn't endorse that view; and the U.S. pledges to maintain only unofficial relations with Taiwan.
In 2003, President George W. Bush designated Taiwan as a de facto major non-NATO ally (MNNA), a designation that grants Taiwan access to enhanced military training, certain defense technologies, surplus equipment, counterterrorism cooperation, space technology exports, and collaboration on equipment stockpiling.
In early May 2022, the Biden administration updated a fact sheet on the State Dept. website about U.S.-Taiwan relations that reiterated the one-China policy is guided by the joint communiques, the Taiwan Relations Act, and the Six Assurances. The update removed a sentence that had read, "The United States does not support Taiwan independence." That edit angered the Chinese government, while U.S. officials played down the change because the American government's stance on Taiwan's independence is unchanged under the one-China policy.
RELATED READING
---
— Eric Revell
(Photo Credit: White House photo by Adam Schultz via Flickr / Public Domain)