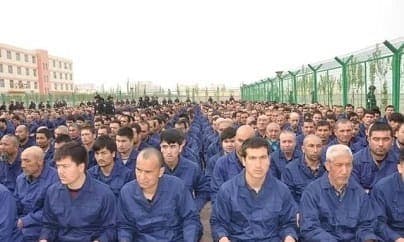 Bipartisan Law Banning Imports Made With Uyghur Forced Labor in China's Xinjiang Region Takes Effect
Are you in favor of banning imports made with Uyghur forced labor in Xinjiang, China?
What's the story?
The U.S. is now enforcing a bipartisan law that bans imports from the Xinjiang region of China that are presumed to have been made with forced labor from Uyghur Muslims and other ethnic minorities held in concentration camps. Xinjiang is a significant source of cotton for global suppliers, in addition to materials that play a key role in making solar panels.

The Chinese Community Party's treatment of Uyghurs and other minorities constitutes a "genocide" according to the U.S., Britain, Canada, and a number of other countries. China has

 imprisoned between 800,000 to 2 million Uyghurs

 in labor and reeducation camps; forced them to renounce Islam; subjected them to beatings, torture, and rape; performed 

forced abortions and sterilizations

; and indoctrinated them with communist propaganda. 
What does the new law do?
What imports are impacted?
The Chinese Communist Party's use of forced labor in Xinjiang is likely to impact a number of industries, as it's one of the world's most significant cotton-producing regions and also supplies key materials in solar panels. About 50% of the world's polysilicon, which is a key material in producing solar panels, came from the Xinjiang region in 2021.

Just days after the Uyghur Forced Labor Prevention Act took effect, CBP issued a "withhold release" order that requires the immediate detention of shipments containing silica-based products made by a 

company called Hoshine Silicon Industry Co. Ltd., and its subsidiaries

 and used in solar panels and other electronics. CBP 

identified the use of forced labor

 in Hoshine's production process, including the use of intimidation and threats, and restriction of movement.
RELATED READING
---
— Eric Revell
(Photo Credit: Radio Free Asia / Fair Use)