We Hold These Truths
We Hold These Truths
| 11.30.22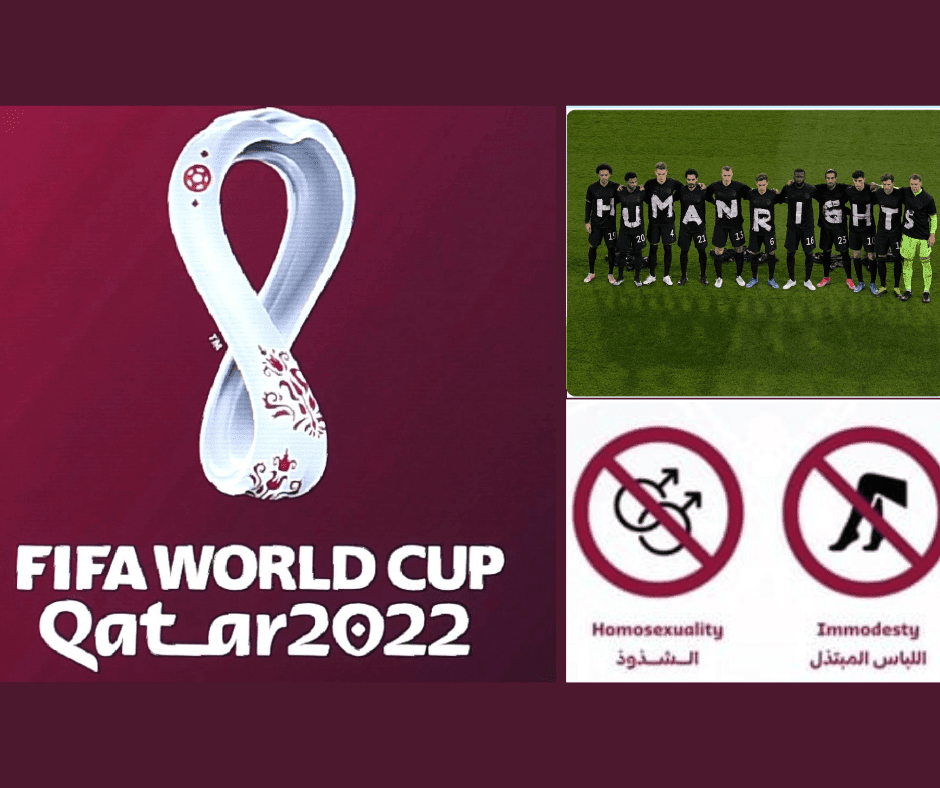 Controversy at the Cup: Human Rights Abuses, Misogyny, and More
Would you (or are you) attending the World Cup in Qatar?
The FIFA World cup recently kicked off in Qatar, also kicking off a storm of bad press highlighting the tiny Gulf state's abysmal human rights record, lack of democratic traditions, history of corruption, and prejudice against women and LGBTQ+ communities.


Backstory of Blood
Over 30,000 migrant workers were brought in, predominantly from India, Pakistan, and Bangladesh, and reports on mistreatment and human rights abuses have circulated broadly. Over 6700 workers have died in Qatar since the World Cup was awarded.
Soccer podcast producer Roger Bennett said that players "(a)re going to be forced to play the game of their dreams in stadia which are literally soaked in blood."
The controversies don't end there. The rules for what fans and players can and cannot do have brought Qatar's repressive norms directly to the stadium.
5 Controversial Rules at the Qatar World Cup


No LGBTQ+ Pride Armbands Allowed
The captains of the English, German, and French teams planned to wear rainbow armbands with the phrase "One Love" to show support for the LGBTQ+ community but were warned that any player wearing any non-FIFA approved armbands would be given a yellow card. (Yellow cards are a warning, red cards result in a player's dismissal from the field. Two yellow cards in one game result in a red card.)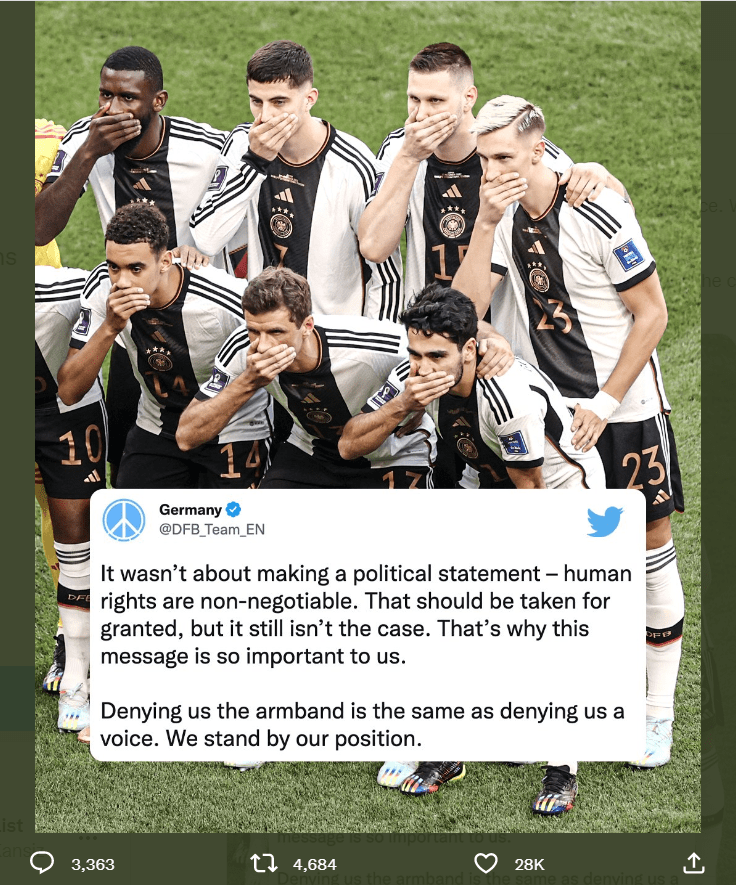 ---
Restrictions on Homosexuality
Homosexuality is illegal in Qatar, with a 2022 ambassador recently saying that it is "a sickness in mind." Any public same-sex intimacy among fans could result in jail time.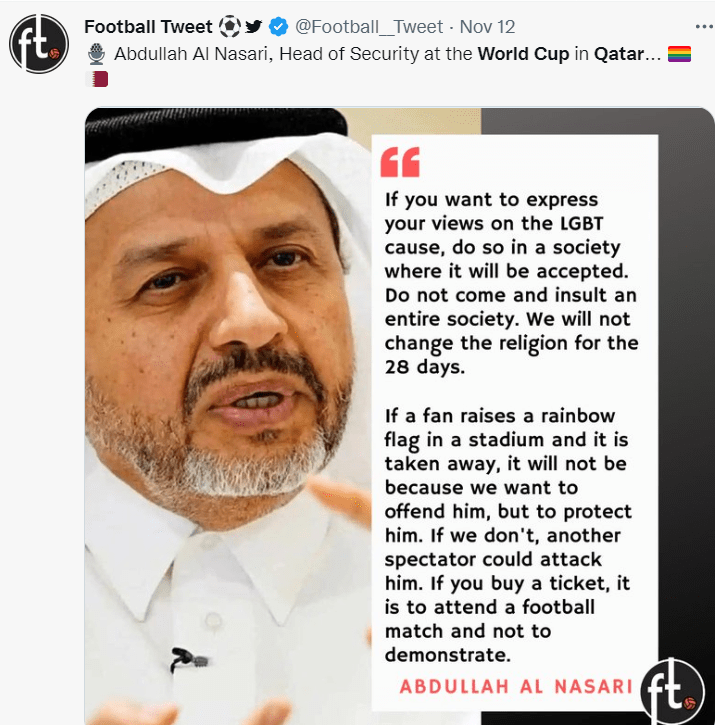 ---
Restrictions on Alcohol Consumption
Alcohol sales are heavily curtailed in Qatar. Alcohol sales are banned at the eight stadiums where World Cup events will take place.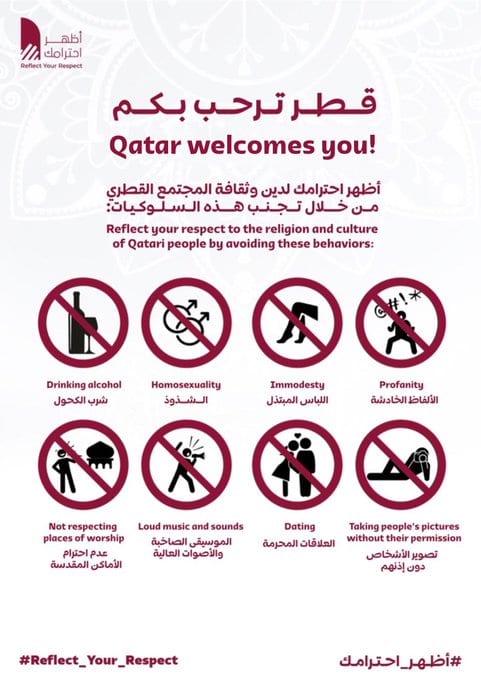 ---
Freedom of Speech and Religious Freedoms Curtailed
Qatar is a devoutly Muslim country, and the open practice - or promotion - of another religion can result in criminal penalties. 
Public arguments and brawls could also lead to an arrest--including exchanging heated words with rival fans. 

---
Restrictions on Unmarried Couples
Restrictions on intimacy are not reserved for same-sex couples. Intimacy or any lewd or sexual contact with someone of the opposite sex can result in heavy legal consequences. Sex before marriage can fetch you seven years in prison. If you are pregnant and need care while attending the Cup, you must show a marriage certificate. 
Spectators must follow modest dress guidelines and limit the amount of exposed skin visible.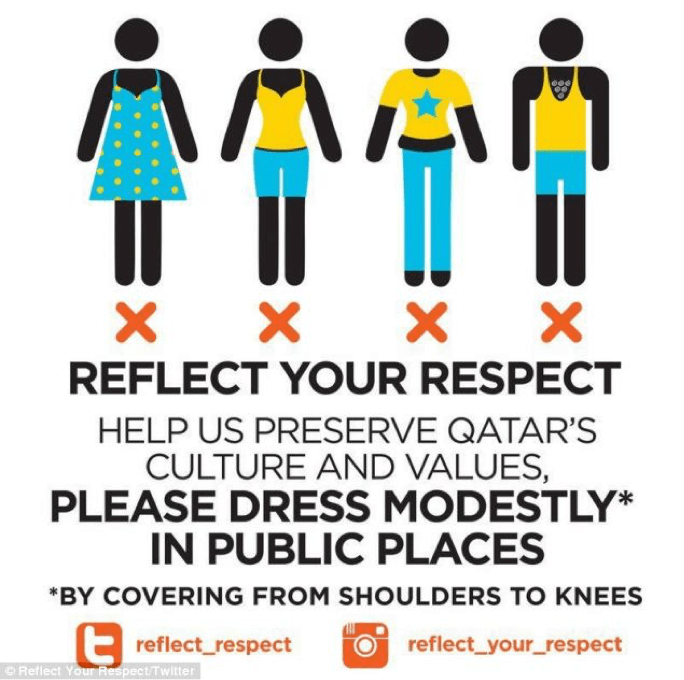 -Emma Kansiz