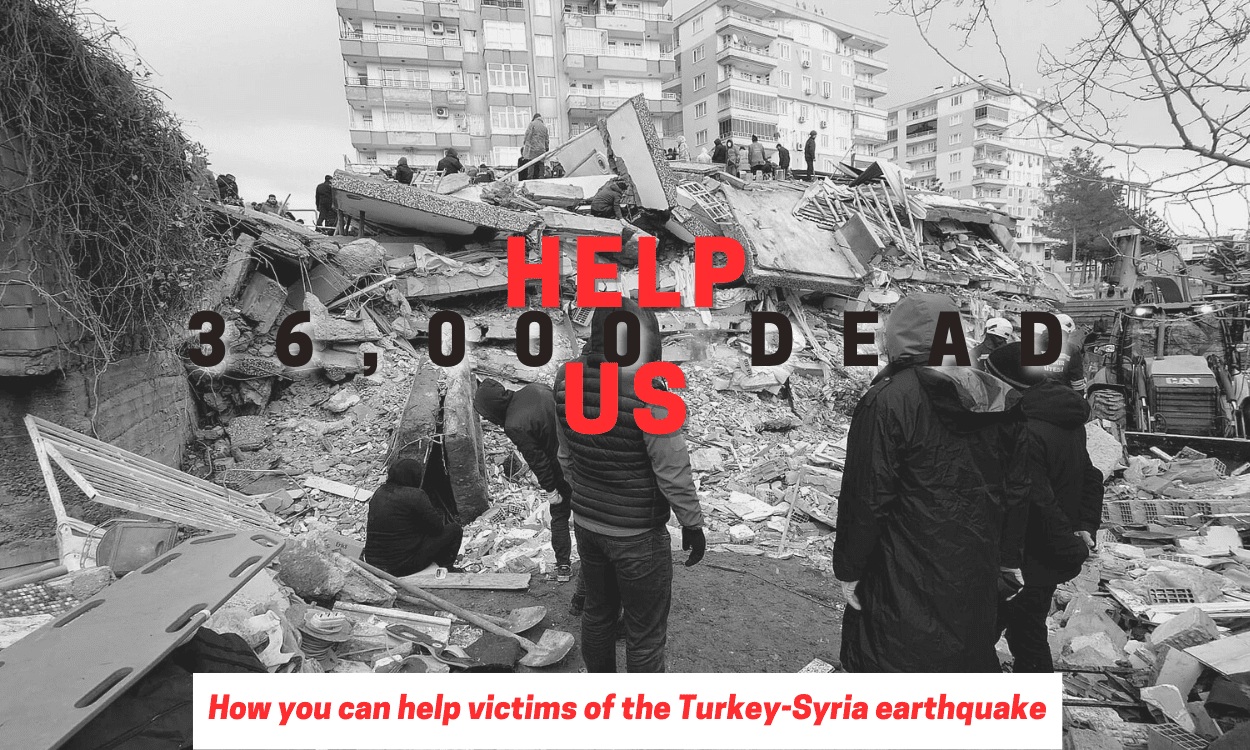 Turkey & Syria in Need of Aid as Death Toll Surpasses 36,000
Donate to help recovery efforts in Turkey & Syria
The death toll from last Monday's earthquake has surpassed 36,000, making it the fifth deadliest earthquake in the 21st century. 


What is happening on the ground?
While aid efforts have grown immensely in the last week, Turkey and Syria still need resources and donations. A top United Nations aid official said: 
"I am encouraged by the scale-up of convoys from the UN transshipment center at the Turkish border. We need to open more access points and get more aid out fast."
As more than one million people are left homeless, a shortage of tents and medical supplies makes for dangerous conditions for injured survivors stuck in extremely cold conditions outdoors. 
Experts are emphasizing the importance of donating to organizations, non-profits, or local organizations with an established presence in the affected areas. Even a small donation of $5 or $10 can help. 
Criticism of Erdogan's response
Many are calling out President Recep Tayyip Erdogan for lack of preparation and a slow response to the disaster. Soli Ozel, lecturer at Kadir Has University in Istanbul, said: 
"The government was just not prepared."
Ozel also pointed out the national funds that were meant for tragedies like this that were instead spent on highway construction. He continued: 
"To make matters worse, if that were even possible, the government is also making it almost impossible for other organizations, civil society, citizens themselves and mayors and municipalities to actually help."
After a catastrophic earthquake in 1999, an earthquake tax was imposed to gather billions of dollars for disaster relief. Today, survivors are not seeing those funds.
Erdogan has restricted how individual cities and aid organizations can operate in Turkey, impeding rescue efforts all over the country. As the severity of the disaster continues to unfold, victims and survivors are in need of aid. Before you donate, check to ensure your chosen organization has a good track record with Charity Navigator and CharityWatch.


International response
Turkey's disaster agency is asking for help from the international community, sending a formal request to NATO for assistance. Numerous nations have begun sending resources and aid, including search and rescue personnel. 
The U.S. Secretary of State Antony Blinken said in a statement: 
"We extend our condolences to the families of those affected and are assessing our comprehensive response options. I have directed my team to remain in close contact with our Turkish allies and our humanitarian partners in the coming days to determine what the region needs."


How you can help
 ⁠—Jamie Epstein
(Photo credit: Twitter/@mufti_william)