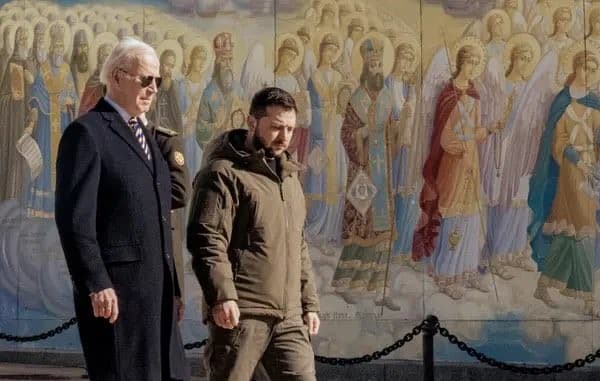 Biden Visits Ukraine Ahead of One-Year Anniversary of Russia's Invasion
Do you support increased American aid to Ukraine?
Joe Biden made a surprise visit to Ukraine on February 20 to pledge half a billion dollars in military assistance to Ukrainian president Volodymyr Zelensky and to reiterate American support.
A surprise visit
What did Biden and Zelensky say?
"[O]ne year later, Kyiv stands. And Ukraine stands. Democracy stands."
Biden also emphasized American support. He said,
"I thought it was critical that there not be any doubt, none whatsoever, about U.S. support for Ukraine in the war." 
Zelensky highlighted the historic importance of the meeting, saying, 
"[I]t is now and in Ukraine that the fate of the world order, which is based on rules, on humanity... is being decided."
Andriy Yermak, Zelensky's chief of staff, said of the visit,
"[M]any issues are being solved and those that have stalled will be accelerated." 
What did the U.S. promise?
Russia and China's reaction
"Of course, we will not do it first. But if the U.S. conducts tests, we will do it as well."
Maria Zakharova, the spokesperson of Russia's foreign ministry, said failure was inevitable for those who "sold their souls to the Americans".
China's top foreign policy advisor Wang Yi is set to arrive in Moscow this week, but it is unsure whether a meeting with Vladimir Putin is on his agenda. Wang said,
"We do not add fuel to the fire, and we're against reaping benefits from this crisis."
Concern about U.S. financial support
Do you support increased American financial and military aid for Ukraine?
 — Emma Kansiz
(Photo Credit: Twitter/ Amy Klobuchar)