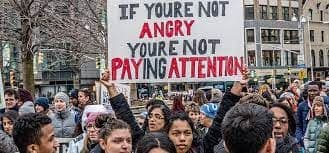 Protests in South America Highlight a Femicide and Gender-Based Violence Crisis
Should the U.S. be doing more to help fight against gender-based violence?
Protests against femicide, oppression, restrictive abortion rights, pay disparities, and gender-based violence erupted across Latin America and the Caribbean on March 8, International Women's Day. 
Protests were held throughout the region — from Montevideo, Santiago, Rio de Janeiro, Quito, Bogota, Mexico City, Quito, San Salvador, and Buenos Aires — representing a wide demographic of women, from students to indigenous leaders to workers. 
Protestors clashed with police in Monterrey, Mexico, and set a government palace gate on fire. 
On March 9, women in Mexico abstained from both work and unpaid labor. The tradition, which began in 2020, was dubbed "Un día sin nosotras" (a day without us) and is an act of solidarity with victims of violence and a demonstration of female contributions to society.
What's the picture of gender-based violence?
"[O]ur obligation is to redouble efforts so that the women and girls of our region can truly exercise their right to live a life free of violence and discrimination."
Ni Una Menos
You might recognize the Argentinian-founded women's rights movement Ni Una Menos from our site banner, but perhaps not realize their profound impact on the conversation about women's rights and gender-based violence.
Founded after the murder and rape of Lucia Perez, it means "not one woman less." It inspired mass demonstrations and the birth of women's rights collectives in Chile before spreading to the entire region.
#NiUnaMenos has promoted treating femicide as a violation of human rights and creating an official registry of femicide cases. 
Argentina's president Alberto Fernández praised Ni Una Menos during his inaugural speech and established a new Ministry of Women, Gender and Diversity.
 Should the U.S. be doing more in the fight against femicide?
 —Emma Kansiz
(Photo Credit: Code Pink)